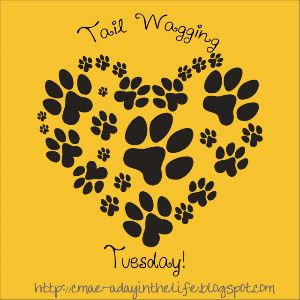 I'm glad CMae decided to bring back Tail Wagging Tuesday for Valentine's day this week because I really didn't know what I was going to blog about today besides the fact that I'm less than a centimeter dilated. It doesn't look like my baby boy is coming out anytime soon, this kid is stubborn just like his momma! But instead of ranting about how miserably pregnant I am, I thought I'd share some vintage Bodie with you to perk up your day.
Our first photo together!
Contrary to how tan I look, I'm not trying out for Jersey Shore.
That little furball definitely stole my heart and will forever be my Valentine! Sorry hubs, you have to share the spotlight... although, you do get brownie points for leaving me a sweet treat this morning before you left for work.
Who is your valentine this year? If it's your furbaby, be sure to link up with CMae!