Even though it's a short work week for me, (one more day! Yippee!) I've still been a busy bee and can't believe there's only a few more days until Christmas. Wasn't I just at the beach? Didn't I just have a birthday?
Thankfully, I finally finished my Christmas shopping last night including all of Kevin's stocking stuffers. I left him in charge of Bodie's gifts this year so hopefully he gets the pup something good!!
Speaking of my little furbaby, I decided to link up with CMae for Tail Wagging Tuesday today to share a Christmas picture that I love of Bodie.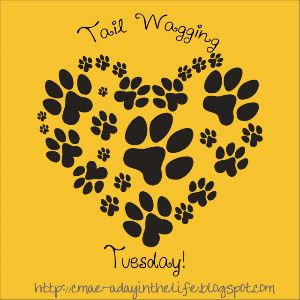 My friend Michelle photoshopped this gem for me a while back and it makes me laugh every time.
But to be honest, he's not that jolly. Most of the time you can find his lazy behind on Kevin's chair by the Christmas tree. Sleeping. Must be nice.
How does your furbaby celebrate the holidays?!