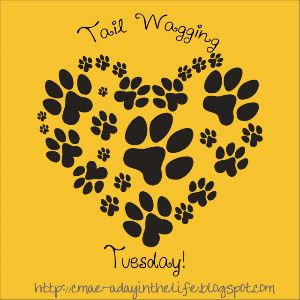 To join in and show off your furry friend, click the image above and head over to CMae's blog!
This week for Tail Wagging Tuesday, we were asked to show off our pet's "bling," or rather, what they wear around their neck. I know it might make me an awful mom but most of the time, Bodie doesn't wear a collar unless we're leaving the house and he'll need the leash. Otherwise, he's got free reign of the yard - leash and collar free!
"FREEDOM!"
But as soon we get in the car to go somewhere, his red collar goes on. Complete with his dog tag that states his name, address and our phone number, as well as his rabies vaccination tag.
Now, if you look really closely at this picture, you'll see a little light hanging there too. Kevin got the brilliant idea to turn this on at night so Bodie doesn't run off into the field and get lost.
And just so you don't think I'm a horrible dog-mom, I did have Bodie groomed this weekend. He's no longer shaggy like the first couple of pictures here and is sporting a fancy Petsmart bandana, so he feels extra handsome.
So fresh and so clean, clean.