I'm kind of glad that it's time for Tail Wagging Tuesday since I have writers block. It's been a busy week already and it's not even half over. Add in the recent April showers, and you've got yourself a pretty nice funk.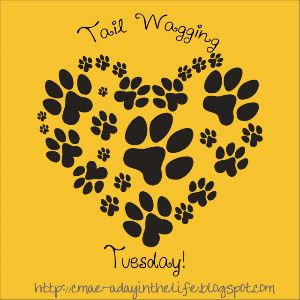 Anywho, this week, we are showcasing our pets favorite toy and Bodie's most prize possession happens to be a gift from the fabulous
Anni
. We both signed up for a Canine and Kitty Gift Exchange last year and got paired up. We sent Anni and her beautiful dog, Sunday, some
treats and a squeaky toy
and they sent Bodie a rubber toy as well as this stuffed candy cane which he's still obsessed with.
Every evening, as soon as I walk through the door from work, he knows it's play time. He'll run and grab this candy cane and beg me to throw it. After about four tosses, he eventually gets tired and quits bringing it back to me and ends up falling asleep with it under his paw. I'm guessing it's a control thing, if he can't play with it, he doesn't want me to either.
Try to take it and you'll get the evil glare.
"Mine candy cane! You cannot haz it."
Join in on the fun and tell us about your pets favorite toy!